Author Liesel K. Hill explories all things fantastical, one alternate world at a time...
Monday, February 17, 2014
Cover Reveal Announcement + How I Met Brandon Sanderson at LTUE!!!
Hey Everyone! Happy President's Day!
I spent my weekend at the LTUE Conference and it was great! Before I get to that, though, I have a favor to ask. I don't have an exact date, yet, but in the next 2-3 weeks I'm going to be doing a cover reveal for The Botanist, my crime fiction novel which will be out courtesy of Jolly Fish Press early next year. (Press Release HERE.)
I saw the cover for the first time on Friday, and it's awesome! Very haunting!
If anyone's interested in helping me do the cover reveal, I'd really appreciate it! Email me at

lkhillbooks@gmail.com

and I'll send you the info and exact date. I'd appreciate all the help I can get.
This was my first year attending the conference. I've known about it for a few years now, but have just never made it there for various reasons. It's held down in Provo and runs Thursday, Friday, and Saturday. Unfortunately, due to work conflicts, I could only attend on Friday, but it was a really great day.
LTUE is different than most conferences in that it's not single presenters giving classes, but rather is made up of panels of authors, agents, editors, and other industry experts all discussing subjects and taking questions. When I heard that the conference had this format, my first thought was that it would be boring, but it's truly not, and I don't just say that because I participated in several of the panels. :D I got to weigh in on Time Travel, Edgar Allan Poe, and Writing Groups. It went well and I felt like people respected what I had to say, which is always a great feeling. :D
I did feel kind of under-prepared. This is a conference where people bring lots of books and swag, but I didn't realize that. I had Barnes and Noble--who kind of presided over the conference--order some books for me, and I think I sold a few, but I wasn't nearly as prepared for marketing as most other authors were. Oh well. At least I'll know for next year.
The guest of honor was supposed to be Orson Scott Card, and I was super-excited to meet him. Unfortunately, because he lives in North Carolina, the terrible storms kept his plane on the ground. He still participated in the conference via Skype (thank goodness for progress and technology) but he wasn't there to meet or talk to. At least, not on Friday. I think he may have made it in on Saturday, but I'm not sure.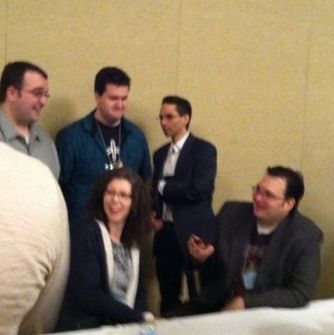 Panel at LTUE Conference. From left to right, standing:
Michael Young, David Powers King, Paul Genesse
Sitting, Anne Sowards and Brandon Sanderson
Brandon Sanderson, however, was a different story. Now, Sanderson is a native of Utah, so I've actually seen him lecture before, but I haven't spoken to him personally. Because I'm currently participating in a massive read-along of his book, The Way of Kings, I thought I'd see if he had any words for the bloggers. (Kind of like a reporter. "Mr. Sanderson, can you give us quote?")
So, I went up to talk to him, as he was being mobbed by other fans, and asked him if he knew about the read-along. Surprisingly, he didn't! I was sure he would because Tor is sponsoring a massive, 20-book giveaway (details here), but apparently they haven't kept him in the loop. He got super excited when I explained it to him, though. I think I was kind of putting him on the spot, but he told me to email him some info about it and he'd tweet us something.
So, I guess you could say Brandon Sanderson is waiting for my email. Score! :D (P.S. Sorry the pic is blurry. I had to take it on the fly!)
Beyond that, it was a great conference. I learned lots and even got some great ideas on how to flesh the characters and plot of the novel I'm working on.
Conferences like these always give me great fodder for blog posts, so you'll probably see a handful of LTUE-inspired posts over the next few weeks.
Hooray for great content ideas! :D
Has anyone else ever attended LTUE?
Posted by

L.K.Hill, Author
at 4:00 AM