Author Liesel K. Hill explories all things fantastical, one alternate world at a time...
Monday, January 7, 2013
Best Dystopian Novels + Announcements
Announcements: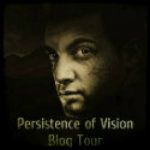 Persistence of Vision Blog Tour!!! The blog tour will kick off on January 13! (Check out my tour page above for details.) There's a badge and code in the sidebar for anyone who wants to grab it. A couple of things about the tour:
a) I've had such a great response to my requests, that it's going to be a long tour. It will probably go close to eight weeks and even then I'm doubling up on a lot of dates. In short, two months from now everyone's going to be sick to death of hearing about my book. Isn't that great?Thank you SO MUCH to all my blogger buddies who've shown so much support and enthusiasm for my book! I can't thank you enough!

b) During the tour, as I've said before, I will probably only do announcements and a few memes on my blog. That's because I want you to check out the tour stops, and since I'll be writing most of the content for the stops, anything I do on my own blog will be double work (triple for days with two stops. :D)
For those of you who are local to Utah, I'll be at the A Passionate Affair Valentine Gift Show on February 9th, signing/selling books...and probably fudge too. If you're close, please stop by! I'd love to meet you in person!
I also have a signing in the Ogden, Utah Hastings Store on February 22. More details to come.
bottom-of-the-glass.blogspot.com
So, as I've mentioned in my
Resolution posts
, I want to read more
Dystopian
novels. I write
Dystopia
, but I feel like I haven't read a lot of the important ones for someone who writes it. So, today I'm going to try and get a list of the greatest Dystopias. I haven't listed all the ones on my
Goodreads Dystopian shelf
, but this is a list of the ones I really want to read this year, and I'd love it if you guys would give me suggestions. I'd like to get a good list going so I have all the really important, awesome
dystopian
stories on my shelf.
Note: I have read the Hunger Games trilogy, so that will not be on the list. Just sayin.'
Also Note: Sorry I didn't link any of these. You can find them on Goodreads. Time crunch situation. :D
1.
Divergent/Insurgent
by
Veronica Roth
2.
The Razorland Series
by
Ann Aguirre
3.
Eve Trilogy
by
Ann Carey
4.
Glitch
by
Heather Anastasiu
5.
Defiance
by
C.J. Redwine
6.
Fahrenheit 451
by
Ray Bradbury
7.
The Giver
by
Lois Lowry
--I know, I know. I need to read it!
8.
The Uglies
Trilogy by
Scott Westerfeld
9.
Brood of Bones
by
A.E. Marling
10.
Breathe
by
Sarah Crossan
11.
Partials
by
Dan Wells
These are just the ones I've been meaning to read FOREVER!!! Anything else you think should be included in my list?
Posted by

L.K.Hill, Author
at 5:55 AM