Author Liesel K. Hill explories all things fantastical, one alternate world at a time...
Monday, February 2, 2015
Top Ten Tuesday: Books I Can't Believe I Haven't Read Yet + Teasers
Teaser Tuesdays is a weekly bookish meme, hosted by MizB of Should Be Reading. Anyone can play along! Just do the following:
•

Grab your current read


•

Open to a random page


•

Share two (2) "teaser" sentences from somewhere on that page


• BE CAREFUL NOT TO INCLUDE SPOILERS! (make sure that what you share doesn't give too much away! You don't want to ruin the book for others!)
•

Share the title & author, too, so that other TT participants can add the book to their TBR Lists if they like your teasers!
This week's teasers come from While Beauty Slept by Elizabeth Blackwell. This is a re-telling of Sleeping Beauty I received for Christmas, so I'm super excited to see where it goes!
Yet as I gazed into Queen Lenore's dark, penetrating eyes, I felt enveloped by her grace. This woman, so kind and yet so mournful, trusted me. And I would do anything to make her happy.
"I am yours," I said.
Had I known the sacrifices my service to Queen Lenore would ultimately entail, would my answer have been the same? (pg. 80)
What are you reading this week?
Top Ten Tuesday is an original feature/weekly meme created here at
The Broke and the Bookish
. This feature was created because we are particularly fond of lists here at The Broke and the Bookish. We'd love to share our lists with other bookish folks and would LOVE to see your top ten lists!
Each week we will post a new Top Ten list that one of our bloggers here at
The Broke and the Bookish
will answer. Everyone is welcome to join. All we ask is that you
link back
to
The Broke and the Bookish
on your own Top Ten Tuesday post AND add your name to the Linky widget so that everyone can check out other bloggers lists! If you don't have a blog, just post your answers as a comment. Have fun with it! It's a fun way to get to know your fellow bloggers.
Top 10 Books I Can't Believe I Haven't Read Yet
(All covers courtesy of Goodreads.com unless otherwise linked)
Most of these are classics and/or dystopians I've always meant to read but never gotten around to.
1. Atlas Shrugged by Ayn Rand - One of my sister's favorite books, and one I've read lots of excerpts of and know the story pretty well, but have never actually read for myself. I really want to. Hopefully this year. :D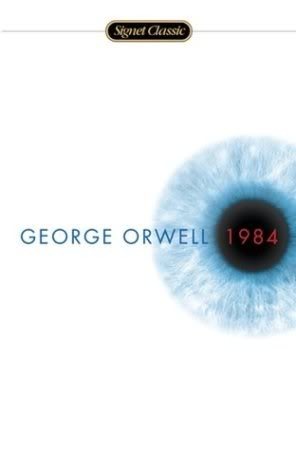 2. 1984 by George Orwell - Another of that same sister's favorites, she's always bugging me to read it. But more than that, being a writer of dystopian myself, it's kind of a crime I haven't read this yet.
3. The Count of Monte Cristo by Alexander Dumas - I've seen no less than three film versions of this, but I know it's a favorite classic of many people, so I'd like to read it. But...I read a Dumas last year and it was really difficult to slog through. This book is VERY long so I know it will be quite a commitment. Not sure when I'll be up to it.
4. Clockwork Orange by Anthony Burgess - This is supposed to be a brilliant psychological dystopian. And no, I haven't seen the Kubrick film. Want to read this more. :D
5. Nostromo by Joseph Conrad - I LOVE Joseph Conrad, and have read several of his works. (I want to read them all.) Nostromo is widely considered his best work (supposedly even better than Heart of Darkness) so I really want to read it and see for myself. I've had a copy on my shelf forever. Hopefully I'll get to it this year. :D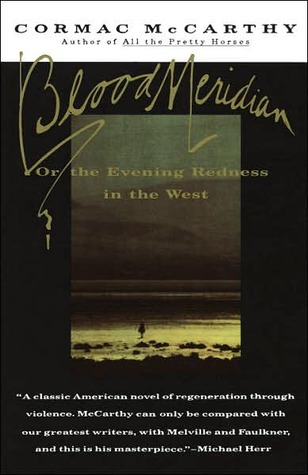 6. Blood Meridian by Cormac McCarthy - McCarthy is another of my favorite authors whose complete works I'd love to read. I've had a copy of this on my shelf forever. I've even started it a couple of times but never gotten far for one reason or another. I'm planning to get to this one soon, maybe even next month.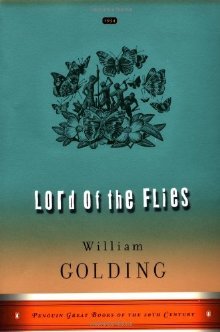 7.
Lord of the Flies
by
William Golding
- This one I'm on the fence about. While I know the story pretty well, I've never actually read the book. But I've never really had much desire to read it either. It's just such a negative view of things. But lately I've been thinking that maybe I should read it, just on principle, so I can say I have and talk about it with authority. The thing is, I'm pretty sure I'm gonna hate it, so it's not exactly at the top of my list.
8. Catch 22 by Joseph Heller - Another classic I've just meant to read for a long time. Lots of people read this in high school or college, but just he way my classes and teachers fell, I never did. Probably should.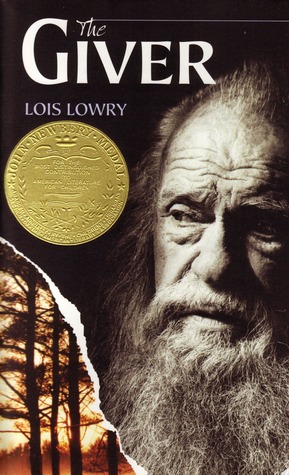 9.
The Giver
by
Lowis Lowry
- I know, I know. Sacrilege that I haven't read this yet. I don't know why I never did. The film came out recently and I haven't seen it yet. I want to read it. And see the film. Sigh.
10. The Princess Bride by William Goldman - Pretty simple here. Love the film. Want to read the book to compare. Have heard good things about it. That's pretty much it. :D
Bonus: The Last Unicorn by Peter S. Beagle - Ditto #10. :D This is one of my favorite cartoons. I totally grew up on it. So I want to read the original, classic book. Maybe this year.
What Top Ten Books are long overdue for you?
Posted by

L.K.Hill, Author
at 10:00 PM