Author Liesel K. Hill explories all things fantastical, one alternate world at a time...
Thursday, May 8, 2014
Follow Friday: Favorite Authors
Gain new followers and make new friends with the Book Blogger Feature & Follow! If this is your first time here, welcome! You are about to make some new friends and gain new followers -- but you have to know -- the point of this hop is to follow other bloggers also. I follow you, you follow me.

The Feature & Follow is hosted by TWO hosts, Parajunkee of Parajunkee's View and Alison of Alison Can Read. Each host will have their own Feature Blog and this way it'll allow us to show off more new blogs!

How does this work? First you leave your name here on this post, (using the linky tools -- keep scrolling!) then you create a post on your own blog that links back to this post (easiest way is to just grab the code under the #FF picture and put it in your post) and then you visit as many blogs as you can and tell them "hi" in their comments (on the post that has the #FF image). You follow them, they follow you. Win. Win. Just make sure to follow back if someone follows you!
What living author or authors would you like to have dinner with?
There are so many!
First and foremost, Brandon Sanderson. He helped finish off my favorite series of all time--Wheel of Time--and now I am immensely enjoying his Stormlig
ht Archives series. Would love to pick his brain!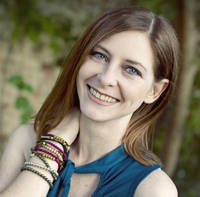 I just finished reading the
Soul Screamers
series, and I'd love to dine with
Rachel Vincent
, who incidentally I'm friends with on Facebook. :D
Katie McGarry
. I actually am not a fan of contemporary, but I think I'd read anything she ever writes. I'd love to talk to her about what makes her stories and characters so different, so much more compelling, than most in her genre.
Markus Zusak
.
The Book Thief
is one of the most touching books I've read in a long time. I'd love to speak with the author about his inspiration, motivation, and process while writing it!
I could probably go on and on--there's so many great authors writing today!!--but these were the ones that came to mind first!
What authors would you like to have dinner with?
Posted by

L.K.Hill, Author
at 7:16 PM