Author Liesel K. Hill explories all things fantastical, one alternate world at a time...
Sunday, December 29, 2013
Crown of Swords Read-Along, Week 1
Hello Everyone, Hope you all had a Merry Christmas!
I'm going off line until the New Year. I'll be back January 1st with new posts. I do have some read-along posts scheduled between now and then, which I've mostly prepared in advance, but other than that, I won't be posting or be on line much at all for the next week and a half.
Everyone have a

M

E

R

R

Y

C

H

R

I

S

T

M

A

S

and a Happy New Year!
Welcome to Week 1 of our Crown of Swords read-along. We officially started book 7 this week. This week we read from the Prologue through chapter 2. Remember that everything in this section as well as well as everything that came before is fair game for

spoilers

, so read at your risk!
1) Elaida has a new office, plenty of schemes, and lots of confidence. What do you think of all this? Will she be successful? Should she be afraid of Bryne's approaching army? Will she be the woman to 'save humankind?' (Totally didn't snort while typing that.)
Wow. The scope of Elaida's ego and the depth of her stupidity just seem to be growing. The woman who saved humankind? Really? Her high tower office and the castle she's building herself are very telling. Not only of her ego and what's really important to her, but also of her stupidity and how much she's living in her own world. If you want to go against thousands of years of tradition and do your own radical thing, you might want to keep a close eye on those who may or may not be happy about it. She's isolating herself. The Hall and other sisters could be plotting against her, talking freely in the hallways of the Tower, and she wouldn't even know it. Unless she decides to descend and start residing on planet earth (or planet Randland, or whatever) I think it's only a matter of time before something happens that she doesn't seem coming. People like Elaida put themselves on an inevitable course with disaster and then have the nerve to be shocked when it happens.
Oh, and by the way, if an army with a world-renowned general at its head is coming for your city, you should be at least a tinsy bit worried. Even if they don't look like much, there must be some reason they feel confident to march on the most intimidating city in the world, right? Again, Elaida=ding bat. Oh, and kudos to the Ogier for telling her to stuff it when she asked them to build for her! :D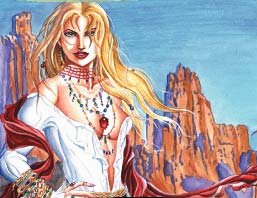 Sevanna and her...cleavage.
Source
2) Sevanna seems to be planning to make use of her little boxes. What do you think she's planning? What will she use them for? (Does anyone else want to put her and Elaida together in a really small room. Just to see what happens?)
I honestly can't remember what the boxes specifically pertain to, but it'll be interesting to see. Obviously her plans, like Elaida's, involve being Queen of the World and marrying Rand. (Because while juggling Elayne, Min, Aviendha and Alanna, he'll totally be open to marrying an older-than-him Aiel woman who flashes her cleavage at everything male that moves!)
And yes, I'd love to put Elaida and Sevanna together. It'd be nice if they could just kill one another, clearing the path for Egwene to assume her place in the Tower and make an alliance with Rand. But, of course it's not that simple. Elaida can channel and Sevanna can't, which means Sevanna would be flattened. Not that I would mind that, as far as Sevanna goes, but then Elaida would just go back to her castle and world domination plans.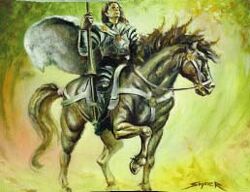 Pedron Niall - Doesn't look much like an old man in
this picture, does he? Source
3) Pedron Niall is assassinated in his fortress, followed by the death of his dim-witted assassin, Omerna. What do you think the message he received said? What do you predict will happen in the wake of the assassination, both in general and more specifically concerning Morgase and her retinue?
This was pretty intense, wasn't it? And unexpected. I didn't remember that this was when Niall got killed. Before it happened, I thought it was actually kind of a boring section. Then it was like, 'whoa!' I actually kind of felt bad for Omerna (sorry I misspelled his name in the question), but given what a nitwit he was, without Niall watching out for him, he probably wouldn't have lasted long one way or another. And he definitely bit the hand that fed him, so I suppose it was poetic justice.
This is going to put Morgase in quite a pickle though, isn't it? The chaos might be a great opportunity to escape. Let's just hope she's not stupid enough to try and forge an alliance with the Questioners. Based on what we've seen of her so far, though, I doubt that's much of a worry. This will definitely shake things up in the world at large. Maybe it will help Rand in that, until the Whitecloaks get new leadership put in, they'll be too busy to harass him. On the other hand, if someone like Aswuana becomes Lord Captain Commander, that can only bode ill for everyone in Randland.
4) Gawyn tries to get his bearings in the aftermath of the battle and seems to be aware of a plot against him and the Younglings, which we've already had hints of. Do you think this plot will ever reach fruition? Will he make it back to Tar Valon alive? And what do you think happened to the wounded sister who disappeared before he could rescue her?
Glad to see that Gawyn isn't totally oblivious to the Aes Sedai plots swirling around him, though I hope he doesn't try to return to Tar Valon at all, until Egwene is instated there. It seems to me that, if you think the Aes Sedai might be trying to assassinate you and your men, you should just steer clear of their capital all together.
I don't know what the significance of that sister disappearing is. Maybe someone snatched her up for their own plans--the Aiel? One of the Aes Sedai? Sevanna? A Forsaken? I honestly don't remember, but hopefully we'll figure it out eventually.
5) Perrin and his companions observe all the bad blood between groups following the battle. Do you think all this animosity will blow up eventually, or will they work out their differences? What did you think of Rand's decision to hand the Aes Sedai over to the Wise Ones and send Taim back to the farm? And how about how he handled Alanna? The fact that Rand memorized the names of 151 dead Maidens? Anything stick out to you about Perrin's observations, or what are your other general impressions about this chapter?
Not much happened in this section, but it definitely established the state of things in the aftermath of this horrific battle. Poor Loial! He gets so nervous when Perrin mouths off to the Aes Sedai, I just want to give him a hug.
Though I
am
glad that Perrin isn't letting anyone bully him.
In terms of who took over with the captive Aes Sedai, I think Rand did a good job. There was no way to placate everyone, but giving them to Taim might have been considered downright sadistic, and we've seen how the Wise Ones teach their apprentices. They're hard, but fair, which might be exactly the kind of thing these Aes Sedai need. And a great big gold star for how Rand handled Alanna. It might not be terribly transcendent of me, but I was totally thinking, "Take THAT, Alanna and Verin!"
The part where Perrin found Rand reciting the names? So stinkin' sad! This doesn't bode well for Rand's state of mind. He was shouting at Lews Therin and so full of grief. But I love the way Perrin handles this! He doesn't criticize Rand or try to give advice. He just listens. And yes, he worries a lot about Rand's sanity, but he doesn't freak out about it. As Rand's psychological state goes downhill, we'll see that Perrin tends to observe it a lot. Certainly a lot more than Mat does. Even though they aren't close in a chummy-chummy sort of way, I think it's cool that Perrin gets to see it in this way. He totally agonizes over it, which is sad, but I think it also helps him understand Rand more and be closer to him.
Thought it was interesting that Perrin said Taim's scent was "complicated." He had a hard time pinning it down. Just more interesting stuff to consider about Taim.
How uncomfortable the Two Rivers and other wetlanders are about Aiel nudity is still funny, though I do kind of feel bad for these young guys who were raised to be proper gentlemen. Poor guys! They have zero chance of keeping their cool or finishing a sentence without stammering.
Keep an eye on Dashiva, the seemingly absent-minded Asha'man that Rand allowed to stay with him. He'll figure more in the story in the future.
How did everyone else like this section?
Posted by

L.K.Hill, Author
at 4:00 AM