Author Liesel K. Hill explories all things fantastical, one alternate world at a time...
Tuesday, October 16, 2012
Top Ten Tuesday--Favorite Authors
Top Ten Tuesday
is an original feature/weekly meme created here at
The Broke and the Bookish
. This feature was created because we are particularly fond of lists here at The Broke and the Bookish. We'd love to share our lists with other bookish folks and would LOVE to see your top ten lists!
Each week we will post a new Top Ten list that one of our bloggers here at The Broke and the Bookish will answer. Everyone is welcome to join. All we ask is that you link back to The Broke and the Bookish on your own Top Ten Tuesday post AND add your name to the Linky widget so that everyone can check out other bloggers lists! If you don't have a blog, just post your answers as a comment. Have fun with it! It's a fun way to get to know your fellow bloggers.
This week's question: Top Ten Favorite Authors in X Genre
I'll be doing my top ten favorite authors in the Fantasy/Scifi Genre. I'll give you a minute to get over your utter shock.
10. Orson Scott Card
goodreads.com
9. Robert Heinlein
Photo Credit: heinleinia.com
youritlist.com
8. J.K. Rowling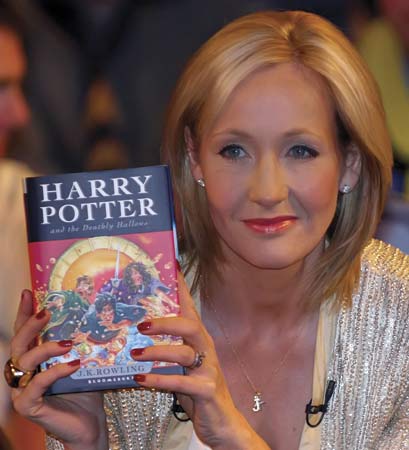 Photo Credit: englishexercises.org
therobotspajamas.com
7. Isaac Asimov
Photo Credit: isaac-asimov.com
fivejs.com
6. C.S. Lewis
Photo Credit: reprog.files.wordpress.com
twilightswarden.wordpress.com
5. J.R.R. Tolkien
Photo Credit: nndb.com
en.widipedia.com
4. Terry Goodkind
Photo Credit: bookreporter.com
3. Brandon Sanderson
Photo Credit: aidanmoher.com
blog.patrickrothfuss.com
2. George R.R. Martin
Photo Credit: collider.com
en.wikipedia.com
1. Robert Jordan
Photo Credit: aitherontd.blogspot.com








What about you? What are YOUR top ten favorite authors?
Random Movie Quotes (RMQ)
Don't know what this is? Click
here
.
Photo Credit:
celebritywonder.ugo.com
Last week's RMQ was:
"Last week we were all strangers, but we're all here, now...but if we can't live together, we're gonna die alone." This was a well-known, oft-repeated like from the TV show, Lost. It was said by Jack Shepherd, played by Matthew Fox. (Aptly named. Just sayin.')
A few people got this one, but Kat of A Myriad of Books was first. Great job, Kat! :D
Today's RMQ is:
"And so the lion fell in love with the lamb."




"What a stupid lamb."




"What a sick, masochistic lion."
Okay, one of the girls better get this one! I left out names because that would make it too obvious, but this is two people. Lines 1 and 3 said by the first person. Line 2 said by the second. So, five points possible, here. One for each of two characters and actors, and then the name of the film/book. (That's a hint, by the way.) Good luck! :D
Reminder

: JFP'S CREATIVE FRIGHTING CONTEST IS IN FULL SWING! GO TO

THIS WEBSITE

, READ SOME AWESOME SHORT STORIES, AND VOTE FOR YOUR FAVORITE! I HAVE ONE IN THE RUNNING! IF YOU LIKE THEM, PLEASE SPREAD THE NEWS! THERE ARE PRIZES FOR RANDOM VOTERS! THANKS!
Posted by

L.K.Hill, Author
at 3:34 AM