Author Liesel K. Hill explories all things fantastical, one alternate world at a time...
Sunday, September 28, 2014
New Spring Read-Along, Week 3
Welcome to week 2 of our New Spring
Read-Along! This week we read chapters 17-END. Remember that everything in this section as well as everything that's come before (in the main series) is fair game for spoilers, so read at your own risk. I'm
hosting this week.
1. What do you think of the fact that Moiraine met Cadsuane. I don't think we knew that before. What's Cadsuane up to? Do you think Moiraine's eventual conclusion that she's Black Ajah is valid? Logical?
I remember being really surprised that they'd met before. We weren't introduced to Cadsuane until well after Moiraine went through the red doorway ter'angreal, so it never occurred to me that the two of them might have had a history.
While I understand why Moiraine suspects Cadsuane is Black Ajah, I think coming to the conclusion that she must be Black Ajah is jumping the gun a bit. They have no real evidence that she is. Of course, with everything they've been through, they're bound to be a bit paranoid. So it's understandable, if not logical.
2. Do you think Tamra was killed by a Darkfriend? Do you think the new amyrlin, Sierin, is Black Ajah? If so, why, and what do you think will happen next?
I think it's very possible that Tamra was murdered. Her death was quite convenient for darkfriends, and quite inconvenient for good people. Sierin, while she didn't do anything overtly evil, definitely seems like she might have been put in place to report to someone higher up. Politically, especially as she seems more like a red who happened to choose grey, it seems a bit convenient (again, for darkfriends) for her suddenly to ascend the Amyrlin Seat.
3. We saw the scene with Lan, Moiraine, and the lake that was mentioned briefly clear back in book 2. What was your reaction to it? Did it play out the way you'd imagined?
Hilarious! I loved this scene. I remember thinking there was a lot more too it than I originally thought, but that's probably just because we only got two lines about it in book 2. It was much more fleshed out here. For me, though, it definitely didn't disappoint. Of course this is how they met and felt about one another at first. We have yet more examples of how much like Nynaeve Moiraine was as a young woman. The major difference of course being that Lan was impressed with Nynaeve almost right from the start. Moiraine, not so much. (Poor guy.)
4. Someone tried to assassinate Lan. He was an idiot who was told to kill Moiraine first, but didn't. Who do you think the attack was aimed at and who was responsible for it?
Chances are it was the work of the Black Ajah or darkfriends in general. We didn't know it when it happened, but my money would be on Merean. She's revealed as Black Ajah at the end and--I think?--Moiraine had already met her at the inn before this attack happened, which means she might have suspected that Moiraine being in the area posing as someone else might be a threat to Merean's own schemes. She probably just decided to eliminate that threat. Bitch.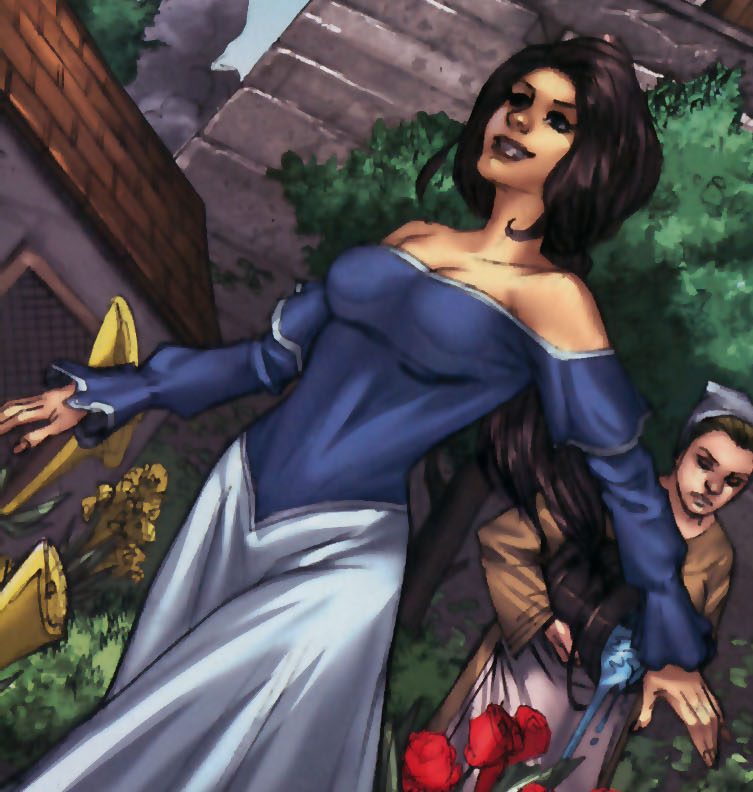 Iselle (Edeyn's daughter) Source
5. What did you think of the Lan-Edeyn relationship, and all of Edeyn's plans for Lan?
Yeah, I was not a fan of this relationship at all. The whole, she-holds-his-severed-braid-so-he-has-to-do-what-she-says thing was both weird and kinda creepy. It felt like he was her sex slave. Now, Lan is all awesomesauce, so I felt this was a major disservice to his character. Edeyn was kind of predatory. And yeah, I know, he's too chivalrous to punch a woman, but I can't I just do it for him? Or maybe Moiraine could? And on top of everything else, after using him as her toy (Toy?) she wants to marry him off to her daughter? That's just twisted.
6. In the end, a Black sister is revealed, and several innocents die. The fight scene was pretty epic. Thoughts? Feelings? Regrets?
Yeah that was a pretty major scene. I'm sad Bukama died, but glad Rhyne got what he deserved. Both he and Merean were darkfriends. But it seriously sucked that the prince and his son both died. As for Edeyn's daughter, meh. I probably should care about her, as an innocent, but I found her rather annoying. (Not as bad as her mother, but still...)
I also thought this scene illustrated both Moiraine and Lan's characters well. Both for the readers, and in each other's eyes. Who wouldn't trust Lan after that?
7. What did you think of final scene that led to Moiraine bonding Lan? Did you like it? Want more? Think it was legit?
I've heard some criticism at the ending that her wanting to Bond him, and his decision to let her, was too abrupt. But I didn't feel that way. Once she told him everything, and he really understood what she was doing and why, it makes sense that he'd want to join her. He may be set on death, but Lan is actually very logical. If you want to fight the shadow, it would make more sense to join Moiraine looking for the Dragon Reborn, than to do the suicide-by-trolloc thing in the Blight.
I actually think it was very epic just because it was so prophetic. And I loved that Lan could read her emotions right away and told her to move on from the tragedy. I really loved the entire final scene.
Extras:
I liked that we saw something of how Siuan would end up on her path, but not all of it. Jordan is good at leaving just enough things unsolved for realism, but not so many that you feel unsatisfied.
Overall, I think Jordan did an awesome job with this prequel. Prequels, by definition, can do little to surprise us. We already know where they're going, so it's hard to be anything but bored with them. But we saw lots of things in this book that we'd never seen before--the test for the shall, stuff from Lan's POV, people Lan knew that were never in the main series, etc. And when we saw things we did know--like younger versions of the sisters we are used to seeing in the main series--he just did it so masterfully that we were left wanting more, rather than being bored. I dearly wish Jordan had lived to write the other prequels he planned. He was really good at writing them!
Lines I loved:
"She had questions of her own for the woman, and the fate of the world might rest on the answers." (pg. 324)
*shivers*
"She had no courage left, no strength. Only determination." (pg. 325) -
Go Moiraine!
Lan shook his head slightly. "He was better. But he thought I was finished, with only one arm. He never understood. You surrender after you're dead." (pg. 327) -
This entirely encapsulates Lan's character. Especially once we get to the final book, you'll understand why.
What other bloggers thought: Dab of Darkness Coffee, Cookies and Chili Peppers
What did everyone else think of the ending?
Posted by

L.K.Hill, Author
at 4:00 AM