Author Liesel K. Hill explories all things fantastical, one alternate world at a time...
Thursday, October 2, 2014
Follow Friday: Book Looks
Gain new followers and make new friends with the Book Blogger Feature & Follow! If this is your first time here, welcome! You are about to make some new friends and gain new followers -- but you have to know -- the point of this hop is to follow other bloggers also. I follow you, you follow me.

The Feature & Follow is hosted by TWO hosts, Parajunkee of Parajunkee's View and Alison of Alison Can Read. Each host will have their own Feature Blog and this way it'll allow us to show off more new blogs!

How does this work? First you leave your name here on this post, (using the linky tools -- keep scrolling!) then you create a post on your own blog that links back to this post (easiest way is to just grab the code under the #FF picture and put it in your post) and then you visit as many blogs as you can and tell them "hi" in their comments (on the post that has the #FF image). You follow them, they follow you. Win. Win. Just make sure to follow back if someone follows you!
Book looks - Your favorite fashions from the books you've read -

Suggested by Go Book Yourself
As you all know, I read a lot of Wheel of Time, and the first thing I thought of for this question was some of the fashions in that series. Because it's kind of a medieval world, the women all wear dresses. It always talks about them having skirts divided for riding and often their dresses will be all one color but slashed with another color.
Couldn't find a pic of the color-slashed fashion, but these
are pretty too. :D (Source)
The men all wear coats, and the amount of embroidery on the clothes denotes how well-to-do they are. They also wear cloaks, which is pretty cool.
And then there are the Ath'an Miere and Sea Folk, who have fashions all their own.
Known for nose ring jewelry. Source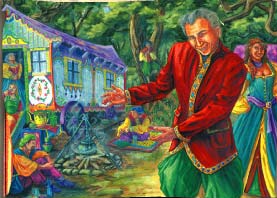 Known for colorful clothing and houses. Source
What are your favorite bookish fashions?
Posted by

L.K.Hill, Author
at 7:00 PM